Nicole Grass Faculty Profile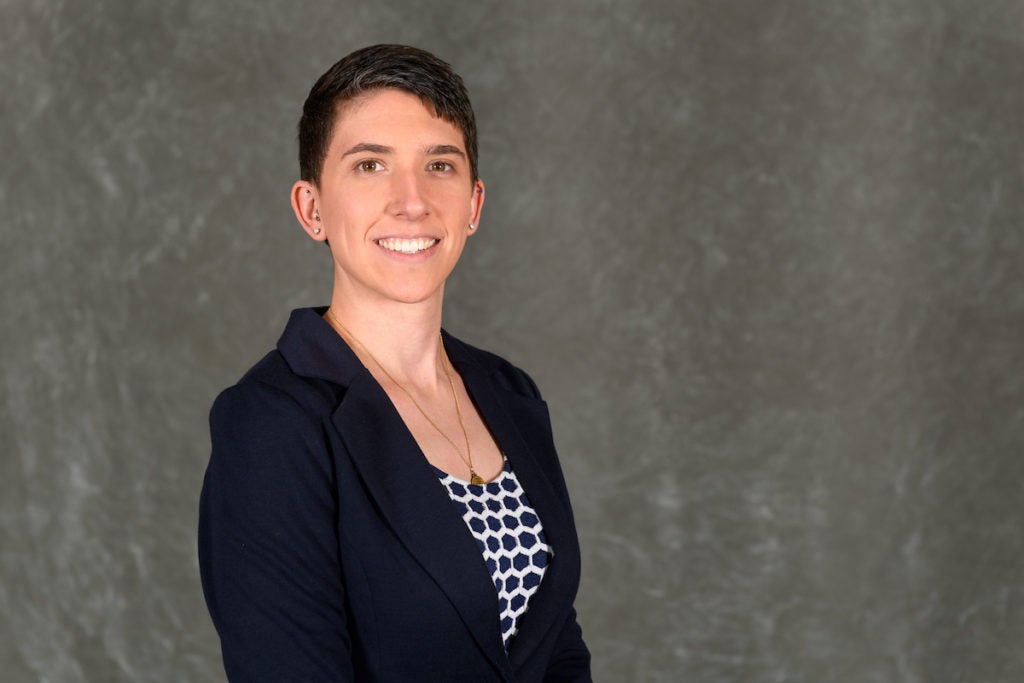 Nicole Grass, DNP, CRNA is the Clinical Director and an Assistant Professor in the Georgetown University Doctor of Nurse Anesthesia Practice Program. She is also the course director for Gross Anatomy and Anesthesia and Co-Existing Conditions. The Gross Anatomy course is taught in an innovative manner with a concentrated focus on anesthesia-related content and extensive hands on experience in the cadaver lab. Overseeing the clinical component, Dr. Grass maintains a close relationship with over 15 clinical sites in the DC, Maryland, and Virginia area while ensuring students obtain a wide range of quality hands-on anesthesia experience. She also provides extensive mentoring, and individual evaluation feedback to clinical students to ensure their success. 
Dr. Grass graduated from Georgetown University's Master of Science Nurse Anesthesia Program in 2015. As a student, she gained experiential knowledge in the education of nurse anesthesia students in her appointed role as a Teaching Assistant for the program. She was honored to be a recipient of the American Association of Nurse Anesthetists Mid-Year Assembly Student Mentoring Program in 2015.
Dr. Grass is currently practicing at Johns Hopkins Hospital in Baltimore where she provides anesthesia to a high acuity population. She also maintains a role precepting nurse anesthesia students at the bedside. 
In service to our profession, Dr. Grass is involved with the AANA Foundation on the Foundation Poster and Scholarship Review Committee. She is also a Council member of the Council for the Advancement of Nursing Science at Georgetown University. Additionally, as a reviewer for the International Student Journal of Nurse Anesthesia, she participates in the publication efforts of nurse anesthesia students. Her research focus has included: 
Implementation of the Apfel Post-discharge Nausea and Vomiting Risk Assessment Score in the postanesthesia care unit for ambulatory surgical patients.
Research assistant for "Jet Ventilation in Pulmonary Vein Isolation Procedures for Treatment of Atrial Fibrillation"; Johns Hopkins Hospital; July 2016- July 2017.
Scholarly Project; "An Exploration of the Implementation of Identified Key Components and Attributes of Successful Mentoring Programs for Student Registered Nurse Anesthetists"; Georgetown University; September 2013- December 2015.
Scholarly publications and presentations have included:
Successfully implemented protocol for "Post-Discharge Nausea and Vomiting Risk Assessment" in a large urban teaching hospital. 2019.
Co-coordinated full day Cadaver-Based Upper and Lower Extremity Regional Workshop for Clinical Site Partner (7 AANA credits). 2019.
Georgetown University, Mini Medical School Program guest lecturer; Washington, DC. "APRN role in today's Health Care System and the Induction of Anesthesia", April 2019.
Grass N. (2017). Intraoperative management of polycythemia in adrenocortical carcinoma (case report). Intl Student J of Nurse Anesth. Fall 2016; 15 (3): 29-32.
Grass N, Steppan J. Percutaneous pulmonic valve implantation: medtronic melody valve.  Johns Hopkins Hospital Anesthesia Intranet, July 2016.
York College of Pennsylvania-Subspecialties in Nurse Anesthesia Conference; York, PA: "Role of the Nurse Anesthetist in the Electrophysiology Lab"; March 2017.
Georgetown University Nurse Anesthesia Program Scholarly Project Presentation; Washington, DC: "An Exploration of the Implementation of Identified Key Components and Attributes of Successful Mentoring Programs for Student Registered Nurse Anesthetists"; December 2015.
Anesthesia Department, Veterans Administration Hospital, Washington, DC: "Cerebral Oximeter Monitoring"; June 2015.