Adil Alaoui Faculty Profile
SUMMARY OF QUALIFICATIONS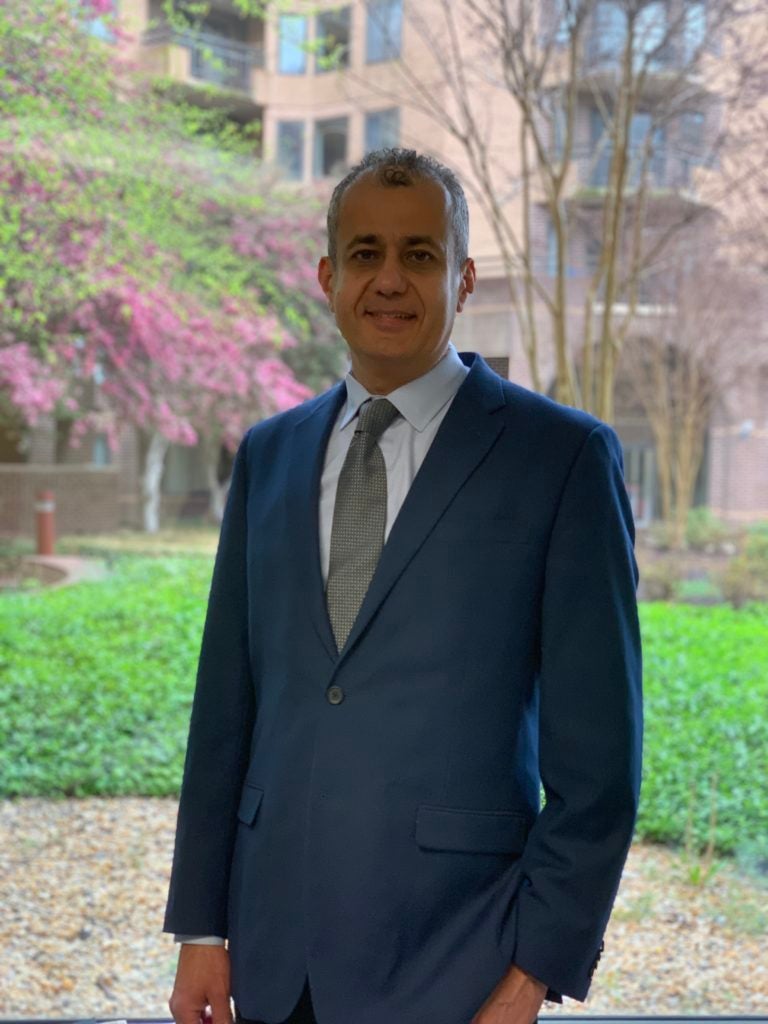 Health information technology executive with over 15 years of experience in developing and executing technology strategies in alignment with organization's objectives and mission.
Hands-on technical expert, successful in designing, developing, implementing, and supporting solutions, including information services, networking, telecommunications, as well as healthcare delivery systems, telemedicine, research, and enterprise productivity programs.
A leader and motivator who collaborates with other executives, health care providers, and the community to leverage new and emerging technologies to execute the vision and simplify processes while promoting efficiencies and innovation.
A manager with ability to manage large programs and effectively lead and work in a multi-disciplinary environment with a passion for people development and organization's growth.
Focus areas: Strategies for future healthcare informatics capabilities including technology infrastructure, electronic health records, multi-center information management and the combination of business administration with innovative information technologies.
CAREER HISTORY
eHMISA– Fairfax, Virginia
Founder and CEO 05/15 – Present
eHMISA is a mobile Health Information Management company developing mHealth and Telemedicine Applications. Recently released a wound management system, global deployment in the US, Asia and middle east: http://ekareinc.com
Biomedical Graduate Education, Georgetown University Washington, DC
co-Director, Health Informatics and Data Science Masters' program. 05/18 – Present
Director, Capstone program
Adjunct professor, Advanced Health Informatics Concepts
School of Nursing and Health Studies, Georgetown University Washington, DC
Adjunct professor: 07/16 – Present
Doctor of Nurse Anesthesia Practice (DNAP) – Health Informatics
Georgetown University Medical Center (GUMC), Washington, DC
Innovation Center for Biomedical Informatics (ICBI)
Lombardi Comprehensive Cancer Center (LCCC)
Director, Health IT & Operations 05/12 – Present
Providing vision, innovation and leadership for developing and implementing efficient and effective enterprise health information technology solutions.
Leading cross-institution EHR data access and implementation of innovative capabilities for secure information sharing. Established a governance structure, processes, and a team to support the services.
Consulting in all technology aspects including the selection of an enterprise Clinical Trial Management System (CTMS) for MedStar Health, Big Data, Health Analytics and Mobile Health efforts.
Orchestrating all projects management, strategic planning, and analytical activities to ensure all deliverables are met in an efficient and timely manner. Identifying collaboration and funding opportunities to constantly innovate and sustain operations.
Directing the development of tools and complex technology solutions in support of GUMC's systems medicine vision.
Overseeing all operations, contracts, HR and financials for the center. Managing relationships with vendors, collaborators, sponsors, and GUMC leadership.
Lead IT architect for the Georgetown-Howard Universities Center for Clinical and Translational Science (GHUCCTS) a $38M NIH project funded to advance the community and nation health. Implemented the research systems used across all GHUCCTS institutions supporting over 400 investigators, providers, and collaborators.
Georgetown-Howard Universities Center for Clinical and Translational Science (GHUCCTS) – Washington, DC
co-Director, Health Informatics and Data Science
Imaging Science and Information Systems Center, GUMC Washington, DC
Director IT & Engineering Division 06/03 – 07/13
Directed information technology and engineering services for a $20M+, 80+ FTE operations.
Technical design and implementation of security policies for various programs to comply with existing security standards and regulations.
Technical director of WIRED project: DoD funded research project to develop an internet based form of cognitive behavioral therapy (CBT).
Technical Director of a Traumatic Brain Injury program (funded by DoD) to generate specific biomarker panels to diagnose brain injury, predict clinical outcomes.
Program Manager for Refugee Health Information Network: an NLM grant to research, design and develop a Refugee Health Information Network (completed)
Lead IT manager for Project Sentinel (funded by NIH), a $6M multi-institution effort to implement advanced informatics and IT infrastructure to support a multi-center health information exchange (completed).
Imaging Science and Information Systems Center Washington, DC
Chief Engineer 08/00 – 07/13
Led technical design and implementation of various global telemedicine programs, security specialist, firewall implementation and administration.
Diabetes Home Monitoring: Designed and implemented database system for a web based diabetes management application (patent).
Technical lead for the Multi-Center clinical data collection for Clinical Multi Syndrome Illness $19M DoD funded research project (completed).
Led the Teleradiology program at Georgetown University Medical Center: Design, implementation and support.
Imaging Science and Information Systems Center Washington, DC
Systems Engineer 09/96 – 08/00
Designed and implemented a telemedicine project to connect Department of State clinics with the US embassy in Nairobi and provide real-time physician patient consultation.
Systems Engineer for Phoenix Project (NLM funded $2.8 million), system design maintenance, upgrades and improvement. Facilitated Telemedicine services for End Stage Renal Disease patients using video, audio and image transfer between 3 locations.
Chief Engineer for the Medicare Demonstration project (CMS funded). Design, implementation and support of technologies to develop a cost-effective care management program for Congestive Heart Failure (CHF) patients that improves: Clinical Outcomes, Quality of Life and Satisfaction with Care (Completed).
Strayer University, Washington, DC
Instructor Information Technology 05/96 – 06/97
Woodhull Hospital, Brooklyn, NY
Clinical Engineer 05/96 – 06/97
Programming, testing and maintenance of different hospital systems.
EDUCATION
Georgetown University,McDonough School of Business Washington, DC
Georgetown University, Walsh School of Foreign Service Washington, DC
ESADE Business School Barcelona, Spain
Global Executive MBA (GEMBA) 07/2012
Georgetown UNIVERSITY, Washington, DC
Project Management Professional Certificate 10/2010
Kharkov State Polytechnic University, Kharkov, Ukraine
MS, BS Electrical and Electromechanical Systems Automation Department 07/1992
Russian Language Instructor
DISTINCTIONS
Organizing committee member of the National Forum on the Future of the Defense Health System.
Technical Program Committee member of IEEE Symposium on Computers and Communications.
Technical Program Committee member, Informatics track SPIE Medical Imaging.
Full scholarship from former Soviet Union.
Lenin Award for best foreign student in the Electrical Engineering Department.
Award best Master's Thesis.
PERSONAL
Fluent in Russian, French and Arabic
US Citizen
Publications
G-DOC Plus–an integrative bioinformatics platform for precision medicine
K Bhuvaneshwar, A Belouali, V Singh, RM Johnson, L Song, A Alaoui, … BMC bioinformatics 17 (1), 1, 2016
Abstract B1-44: G-DOC Plus: A cloud based next-generation systems medicine platform for precision medicine
K Bhuvaneshwar, A Belouali, V Singh, RM Johnson, L Song, A Alaoui, … Cancer Research 75 (22 Supplement 2), B1-44-B1-44 , 2015
Clinical management system for chronic illnesses using telecommunication
BA Levine, SC Clement, SK Mun, A Alaoui, TM Hu US Patent App. 12/790,476 , 2011
Clinical management system from chronic illnesses using telecommunication
BA Levine, SC Clement, SK Mun, A Alaoui, TMJ Hu US Patent 7,756,722 , 2010
Framework design and development of an informatics architecture for a systems biology approach to traumatic brain injury
A Alaoui, D Kim, B Levine, K Cleary, HJ Federoff, T Mhyre SPIE Medical Imaging, 76280N-76280N-8 , 2010
Database schema models of integrated biomedical information in relational database system
D Kim, A Alaoui, B Levine, K Cleary SPIE Medical Imaging, 762804-762804-8 , 2010
System architecture and information model for integrated access to distributed biomedical information
D Kim, A Alaoui, B Levine, L Leondaridis, P Shields, S Byers, K Cleary SPIE Medical Imaging, 72640G-72640G-9 , 2009
Building a secure medical research organization
A Alaoui, N Subbiah, J Collmann, K Cleary, SK Mun, J Coleman Computers and Communications, 2008. ISCC 2008. IEEE Symposium on, 346-355 , 2008
ImTK: an open source multi-center information management toolkit
A Alaoui, ML Ingeholm, S Padh, M Dorobantu, M Desai, K Cleary, SK Mun Medical Imaging, 69190T-69190T-9 , 2008
ImTK: an open source multi-center information management toolkit [6919-30]
A Alaoui, ML Ingeholm, S Padh, M Dorobantu, M Desai, K Cleary, SK Mun PROCEEDINGS-SPIE THE INTERNATIONAL SOCIETY FOR OPTICAL ENGINEERING 6919, 6919 , 2008
Health Information Sharing System for Refugees and Immigrants in Five States
A Alaoui, N Patel, N Subbiah, I Choi, J Scott, W Tohme, SK Mun 1st Transdisciplinary
Conference on Distributed Diagnosis and Home … , 2006
Home Monitoring of Congestive Heart Failure Patients
BA Levine, E McAlinden, TMJ Hu, FM Fang, A Alaoui, P Angelus, J Welsh, … 1st Transdisciplinary Conference on Distributed Diagnosis and Home … , 2006
Electronic data collection for clinical trials using tablet and handheld PCs
A Alaoui, M Vo, N Patel, K McCall, D Lindisch, V Watson, K Cleary Medical Imaging, 286-293 , 2005
Safe teleradiology: Information assurance as project planning methodology
J Collmann, A Alaoui, D Nguyen, D Lindisch Journal of the American Medical Informatics Association 12 (1), 84-89 , 2005
Impact of MyCareTeam™ for Poorly Controlled Diabetes Mellitus
KE Smith, BA Levine, SC Clement, MJ Hu, A Alaoui, SK Mun Diabetes technology & therapeutics 6 (6), 828-835 , 2004
Implementing a secure teleradiology system using the internet
A Alaoui, J Collmann, D Nguyen, D Lindisch, RTN Subbiah, A Green, … International Congress Series 1256, 803-808 , 2003
Safe teleradiology: information assurance as project planning methodology
JR Collmann, A Alaoui, D Nguyen, D Lindisch Medical Imaging 2003, 240-250 , 2003
Implementation of a home monitoring network for patients with congestive heart failure
A Alaoui, B Levine, P Beauchene, EM McAlinden, MJT Hu, J Choi, … Information Technology
Applications in Biomedicine, 2003. 4th International … , 2003
Media attitudes vs. use: the contribution of context to the communication environment in telemedicine
JW Turner, JD Robinson, A Alaoui, J Winchester, A Neustadtl, BA Levine, … Health care management review 28 (2), 95-106 , 2003
Safe teleradiology: information assurance as project planning methodology [5033-30]
JR Collmann, A Alaoui, D Nguyen, D Lindisch PROCEEDINGS-SPIE THE INTERNATIONAL SOCIETY FOR OPTICAL ENGINEERING, 240-250 , 2003