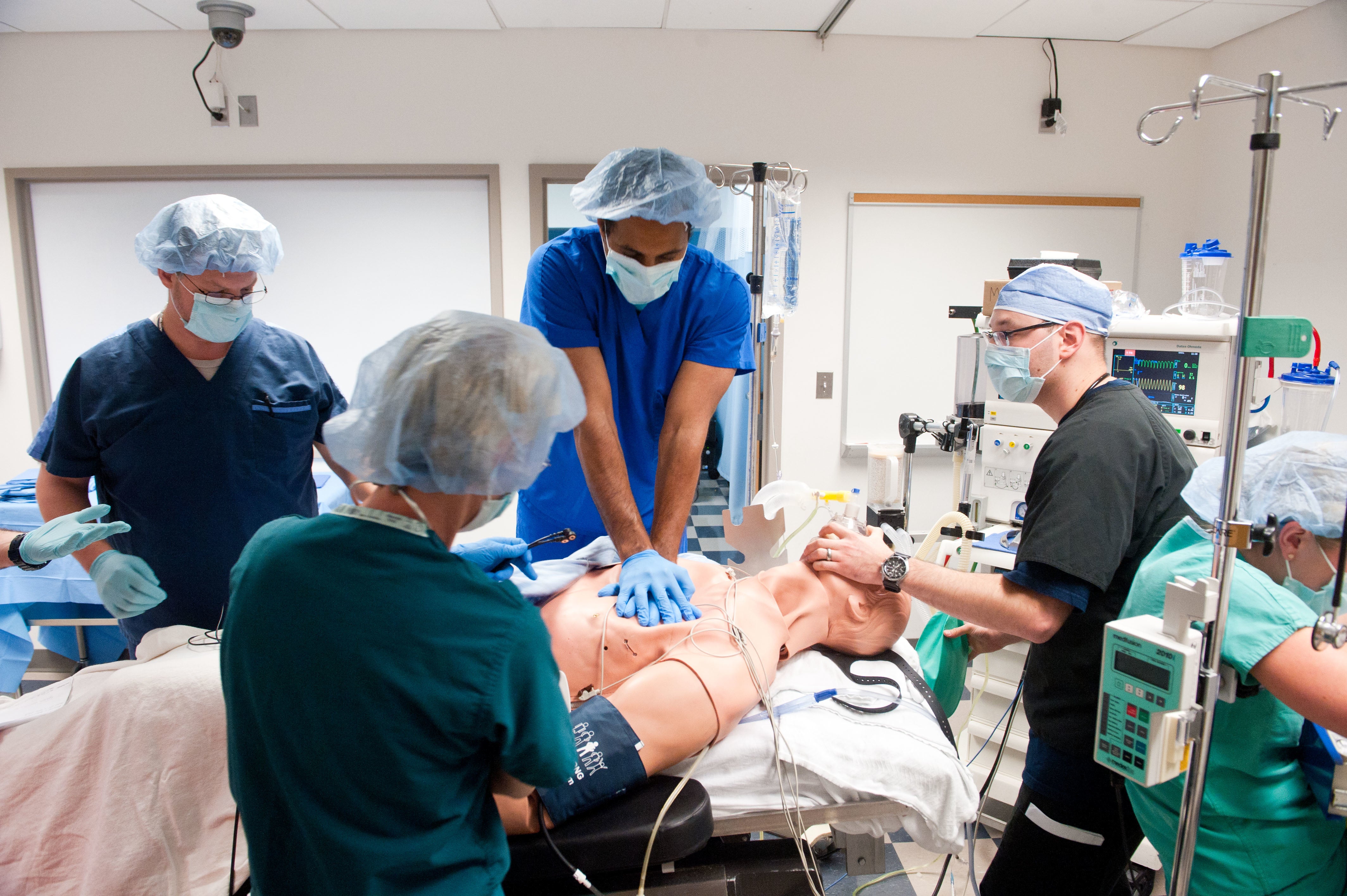 The highly regarded Nurse Anesthesia Program leads to the Doctor of Nurse Anesthesia Practice (DNAP) degree.
This full-time, on-campus 64-credit BSN-DNAP program lasts three years. The first 12 months include 37 credits of didactic coursework. The remaining 27 credits of the program – spread over 24 months – are a blend of coursework, clinical experience, and research. Clinical placements are designated by the faculty at clinical sites throughout the greater Washington metropolitan area.
Program Background & Features
The Nurse Anesthesia Program was founded in 1994 by Donna Jasinski, PhD, CRNA. Jasinski and her team of highly credentialed CRNA faculty have consistently facilitated the academic and clinical success of countless numbers of nurse anesthesia students. Longtime faculty member Ladan Eshkevari, PhD, CRNA, LAc, directs the Doctor of Nurse Anesthesia Practice Program.
The Nurse Anesthesia Program:
Is ranked as a top 10 nurse anesthesia program by U.S. News & World Report (in publication's master's rankings)
Features an award-winning and relatively unique approach to teaching anatomy and anesthesia using Georgetown's cadaver lab
Offers clinical placements arranged by faculty in unique settings across the metropolitan DC/MD/VA region
Founded the Student Journal of Nurse Anesthesia in December 2003 that has evolved into an international journal with articles from students around the world
Prepares graduates to take the National Certification Examination (NCE) for nurse anesthetists.
Academic Calendars
Accreditation Information
The Doctor of Nurse Anesthesia Practice Program is accredited by the Council on Accreditation of Nurse Anesthesia Educational Programs (COA) (new window). The master's program, which is no longer accepting applications, is accredited until 2024.
The council's contact information is as follows: COA 222 S. Prospect Ave., Park Ridge, IL 60068-4001 Ph: (847) 692-7050 Fax: (847) 692-7137.
The master's program's 2015 pass rate was 97%, which exceeded the threshold. Programs' pass rates are calculated using results of first-time exam takers. The pass rate for repeat test takers is 100%.
The 2015 employment record for new grads is 100% within 3 months of graduation.
The 2015 attrition rate was 8%.
DNAP Class of 2020
Programmatic Contacts
Edith De Leon
en48@georgetown.edu
(202) 687-3912
St. Mary's Hall
School of Nursing & Health Studies (map) (new window)
Georgetown University
3700 Reservoir Road, NW
Washington, DC 20057-1107
Historical Note about GU Nurse Anesthesia
The Nurse Anesthesia Program at Georgetown University operated at the master's level from 1994 until December 2018. The master's-level program transitioned to the Doctor of Nurse Anesthesia Practice Program, which enrolled its first class in June 2017. The last cohort of master's-level students completed the program in December 2018.